CEA initiates workshop on 3D Modeling, Robotics for UCNHS teachers, Studs
Engr. Rex Basuel, Dean of College of Engineering and Architecture (CEA), initiates extension project to train selected STEM teachers and students of Urdaneta City National High School (UCNHS) on 3D modeling & printing, applications of nanotechnology, and advanced lecture on CCTV robotics.
On June 03, 2022, a Memorandum of Agreement was signed by representatives of Pangasinan State University—Urdaneta City Campus (PSU-UCC) and UCNHS. In one of the consultation meetings with UCNHS representatives, Engr. Basuel said that the project team hopes, through the workshop, would help in furthering the competence of STEM students. He continued saying that it is PSU-UCC's desire to extend whatever knowledge and capacity it has, especially to students within its locale and neighboring communities in need.
The workshop for both teachers and students was conducted on July 18-22, 2022. The extension project was named under Engr. Basuel and Engr. Wyerlo Alcantaro.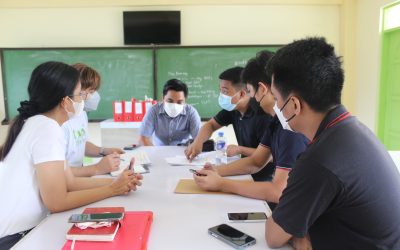 Engr. Rex Basuel, Dean of College of Engineering and Architecture (CEA), initiates extension...
PSU inks MOA with Pangasinan Organic Farmers Associations
Pangasinan State University through the Research, Extension and Innovation Division signed a Memorandum of Agreement with seven Organic Farmers' Associations in Pangasinan to promote Moringa production in the province last April 22, 2021 at PSU-Sta. Maria Campus.
Participating Organic Farmers' Associations will be the beneficiaries of the Php 4M PSU Massive Malunggay Seedling Production Program funded by the Department of Agriculture – Regional Field Office 1 and in partnership with the Moringaling Philippines Foundation, Inc.
Prior to the MOA signing, the PSU Research, Extension and Innovation team journeyed around the province, climbing hilly terrains and crossing rushing rivers in search of areas suited for Moringa production. The beneficiaries were selected based on their capacity to implement the program.
Funds for the program were allocated from the Agriculture Stimulus Package of RA 11494 or the "Bayanihan to Recover as One Act" (Bayanihan II). PSU is one of the eight SUCs in the country to be awarded with the R&D grant.
The event was graced by the presidents of the participating farmers' associations together with the selected University Officials. Dr. Dexter R. Buted , University President was ably represented by the Vice President for Research, Extension and Innovation, Dr. Paulo V. Cenas and his team.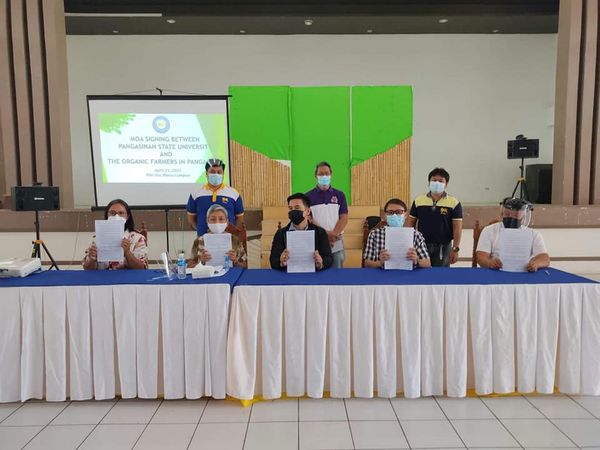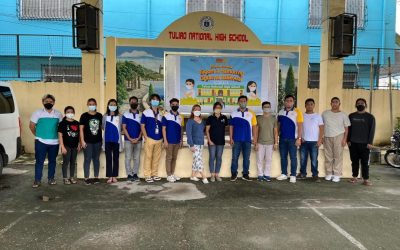 Brigada Eskwela is an annual event across the public elementary and secondary schools in the...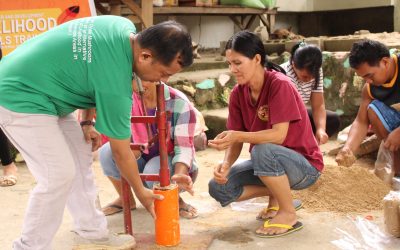 The Gender and Development Office (GAD) of Pangasinan State University – Urdaneta City Campus...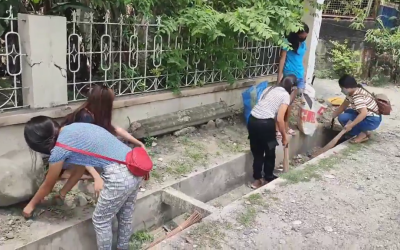 Students form PSU Urdaneta's College of Arts and Education (CAE), and College of Computing (COC)...
Gender And Development(GAD)
Ambat: GAD Office reaches out to Pangasinan Ibaloi women, provides skills training
The Gender and Development Office (GAD) of Pangasinan State University – Urdaneta City Campus (PSU-UCC) led by Mr. Bj R. Ambat reaches out to Pangasinan Ibaloi women of San Felipe East, San Nicholas Pangasinan. Mr. Ambat, PSU-UCC's GAD Coordinator, spearheads a one-day outreach that provides training on oyster mushroom cultivation for girls and mothers of the Ibaloi cultural community on July 26, 2022.
After more than an hour-long trek through the mountains of the Ibaloi ancestral domain, Mr. Ambat's team arrived at Kabayabasan Elementary School (KES) where the abovementioned skills training was held. The team include: Mr. Mark John Padilla (PSU-UCC's extension coordinator), Ms. Joan Elizabeth Ibay (Social Studies Faculty), Mr. Rodrigo De Vera, Jr. (Teacher and Community Developer from Benigno V. Aldana NHS, Pozorrubio, Pangasinan), and Rev. Isamar Joe Campos (Private School Principal and Oyster Mushroom grower). The team was welcomed by Chieftain Jesusa Tagapong and Mr. Charlie Cayabas, teacher-in-charge, KES.
The program started with a talk from Mr. Ambat entitled, "Related Laws and Policies Promoting the Welfare of Women." Mr. Ambat emphasizes the role of women–including women from IP communities–in nation building. He noted that women could also earn a living through community-based livelihood such as oyster mushroom cultivation. After his talk, a distribution of pamphlet highlighting the rights of women was done.
The training proper for oyster mushroom cultivation was led by Rev. Campos. He spearheaded a walk-through demonstration on the processes and materials for oyster mushroom cultivation. He advised that with the relatively humid temperature at KES, oyster mushroom could bountifully flourish.
Rev. Campos is also a product of an extension program from PSU Binmaley Campus. Currently, he continues to grow oyster mushroom along being a school principal, senior pastor and chaplain.
After lunch and snacks were served, Mr. Padilla gathered the mothers for a short process discussion on oyster mushroom cultivation and other feasible sources of community livelihood. He also delivered a talk entitled, "Desirable Character Traits for Community Livelihood Development." Five character traits were emphasized necessary for a sufficient community-based livelihood: participative, teachable, trustworthy, resilient, and perseverant.
The program ended with a distribution of food packs brought and sponsored by Mr. De Vera, Jr.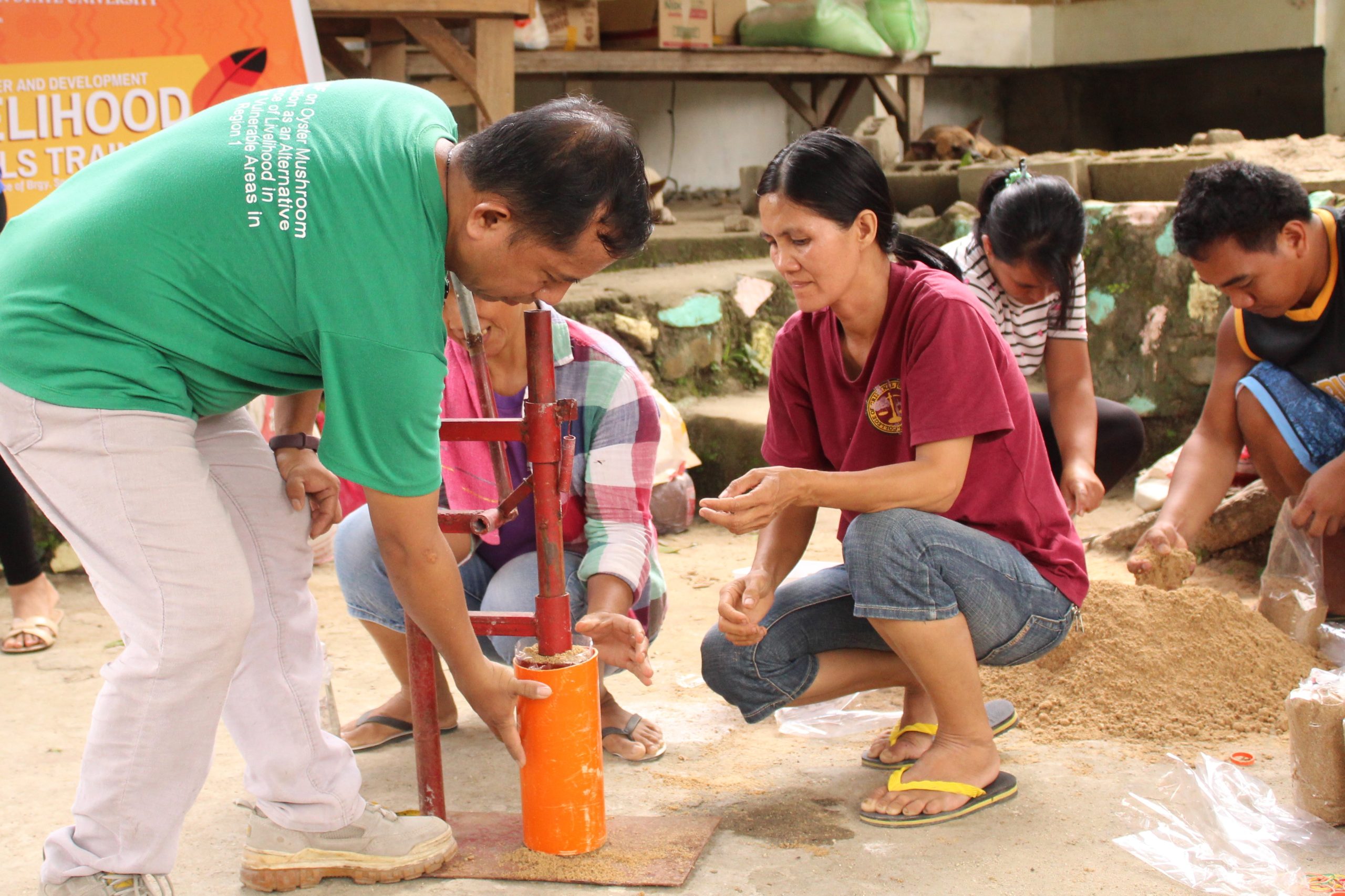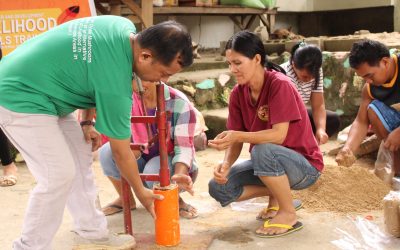 The Gender and Development Office (GAD) of Pangasinan State University – Urdaneta City Campus...
NSTP, NatSci units 'go green' with tree-planting
To take action "For our Future: Plant, Grow, Repeat," the Pangasinan State University's National Service Training Program (NSTP) unit partnered with Natural Science Department pioneered the tree-planting project on June 15, 2022, in Barangay Capandanan, Lingayen.
Grounded on PSU's core values of "Social and Environmental Responsiveness," the project engaged NSTP, Nat. Sci. Dep't faculty members and first-year BS Biology students led to successfully planting a total of 600 bakawan (mangrove) propagules that will entirely benefit not only the community but essentially the ecosystem, both marine-coastal and terrestrial habitats and ecosystems in a myriad of ways.
In the conservationist's lens, as a 'blue carbon' ecosystem, mangrove forests together with saltwater marshlands, and seagrass meadows are extremely effective (up to 100 times faster and more permanently than terrestrial forests) at storing atmospheric carbon, thereby mitigating climate change according to Fortes & Salmo (2014) based on the United Nations Environment Programme (UNEP) and International Union for Conservation of Nature (IUCN) reports.
The project's initiatives mounted the students' robust support over the "Let the Earth Breathe" campaign, a global call to raise awareness of the looming catastrophic repercussions of the climate crisis.
"It was my first-time planting mangrove propagules; quite difficult but I enjoyed it. The activity served as a reminder of the importance of trees in our daily life, and protecting coastal and marine ecosystems is equally significant as the ocean covers 71% of the earth's surface, providing food and oxygen, both necessities for survival," Emlene Mae Dela Cruz, first-year Biology student shared.
This goes arm in arm with the penultimate goal of sustaining the strategy by promoting environmental responsiveness, setting a platform for other units and organizations to follow, thus, starting a movement toward environmental protection and conservation.
"…it hopes to create an impact, start a movement, and let everyone, especially our peers, that with action, volunteerism, and teamwork, a future where everyone can breathe fresh and clean air is in our grasp; the world needs our help more than ever," said in the project's statement.
One with Earth, PSU holds strongly to its values of environmental responsiveness as manifested in its institutional strategic programs lined with partnerships with government and non-government organizations in taking sustainable actions to preserve nature and secure next generations' future of a habitable planet.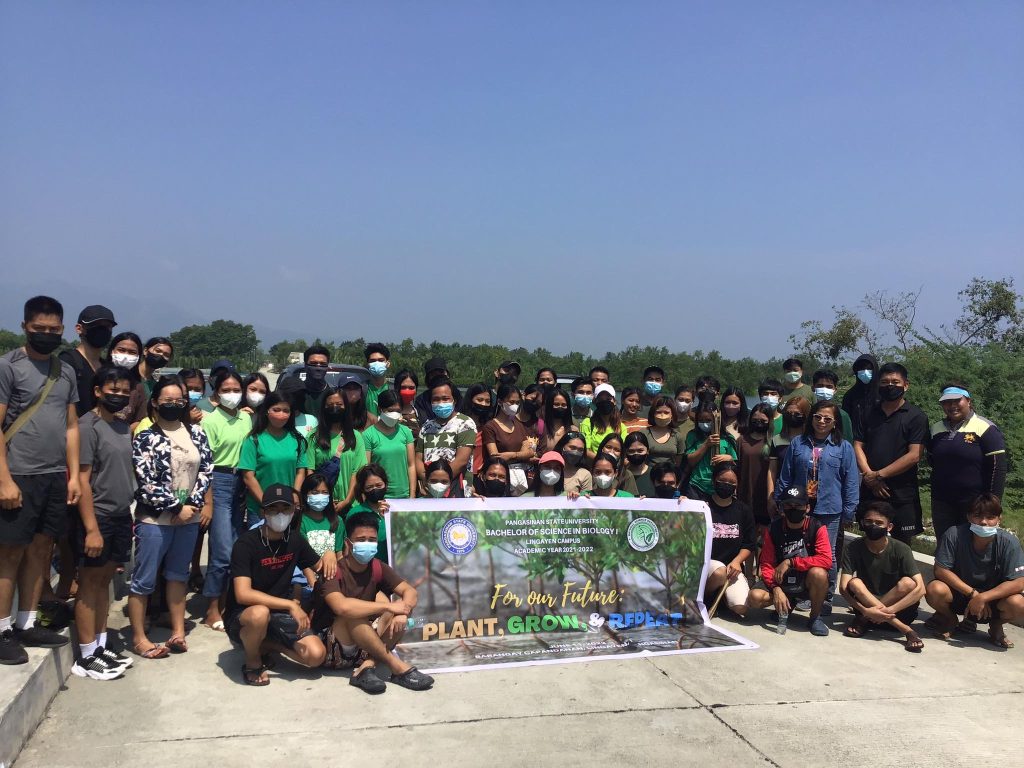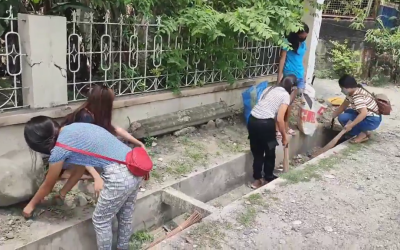 Students form PSU Urdaneta's College of Arts and Education (CAE), and College of Computing (COC)...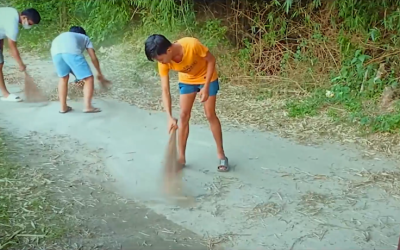 PSU Urdaneta City Campus | Students from the College of Engineering and Architecture (CEA) extends...
The Supreme Student Council (SSC) of Pangasinan State University - Urdaneta City Campus (PSU-UCC)...
PSU VISITS TDC FOR ACADEMIC AND RESEARCH COLLABORATION
November 19, 2018 | HO CHI MINH CITY, VIETNAM
On November 19, 2018, sixteen (16) delegates from Pangasinan State University – Urdaneta City Campus visited Thu Duc College of Technology (TDC) in Ho Chi Minh City, Vietnam. The visit aimed to start an academic collaboration, share ideas and experiences, and build friendship and linkage between the two educational institutions.
The delegation was headed by Engr. Rodel Hacla, together with Dr. Frederick Patacsil, the Dean of College of Computing, Mr. Michael Acosta and Ms. Jennifer Parrone, department chairmen, and faculty members of College of Computing.
The visit started with an opening program, where Ms. Nguyen Thi Ly, President of TDC, gave her opening remarks, warmly welcoming the PSU delegation.
The academic collaboration visit is composed of two working sessions. The morning session included the introduction of each institution. TDC, through Ms. Bui Thanh Yen Thao, Lecturer of FIT – TDC, presented the profile of their college, program offerings, international linkages, and an overview of the researches their faculty has conducted. They also presented the Conceive-Design-Implement-Operate (CDIO) framework of their curriculum. They communicated the adoption of the framework, including its development and status, as well as their experiences in adopting the curriculum model.
This was followed by research presentations by selected faculty members of PSU, including Ms. Christine Lourrine S. Tablatin, Mrs. Kristen Bhing V. Salvio, Mr. Paul Andrew V. Roa, and Mr. Andhee Jacobe.
Design and Development of an Information Technology Fundamentals Multimedia Courseware for Dynamic Learning Environment, presented by Ms. Christine Lourrine S. Tablatin
Developing a Homegrown Course Management System for Pangasinan State University, presented by Mrs. Kristen Bhing V. Salvio
Development of Online Compendium for Pangasinan State University, presented by Mr. Paul Andrew V. Roa.
Pattern Recognition of Suicidal Ideation, presented by Mr. Andhee M. Jacobe.
The afternoon working session includes discussion of the two institutions regarding the presentations in the morning session, as well as the experiences regarding CDIO curricular model. In this session, both institutions asked questions and shared ideas, which made for an interesting and fruitful discussion.
TDC shared its curricular framework, syllabi format, and assessment strategies which utilizes the CDIO framework.
The meeting was followed by a tour of TDC, where the delegates visited different sites of the school, including their libraries, computer and engineering laboratories, classrooms, session halls, and bakery. Instructional materials, such as books and manuals, and facilities for both academic and non-academic development were viewed. After the tour, PSU and TDC exchanged school badges as a sign of friendship between the two institutions.
Pangasinan State University (PSU) team led by Dr. Paulo V. Cenas (Vice President for Research,...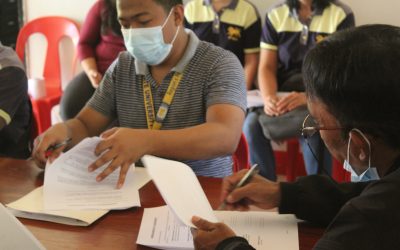 Pangasinan State University – Urdaneta Campus (PSU-UCC) entered into an Agreement with Brgy....
The Rural Health Unit (RHU) and Birthing Facility of Sison, Pangasinan hailed an extension project...