Bachelor of Arts in English Language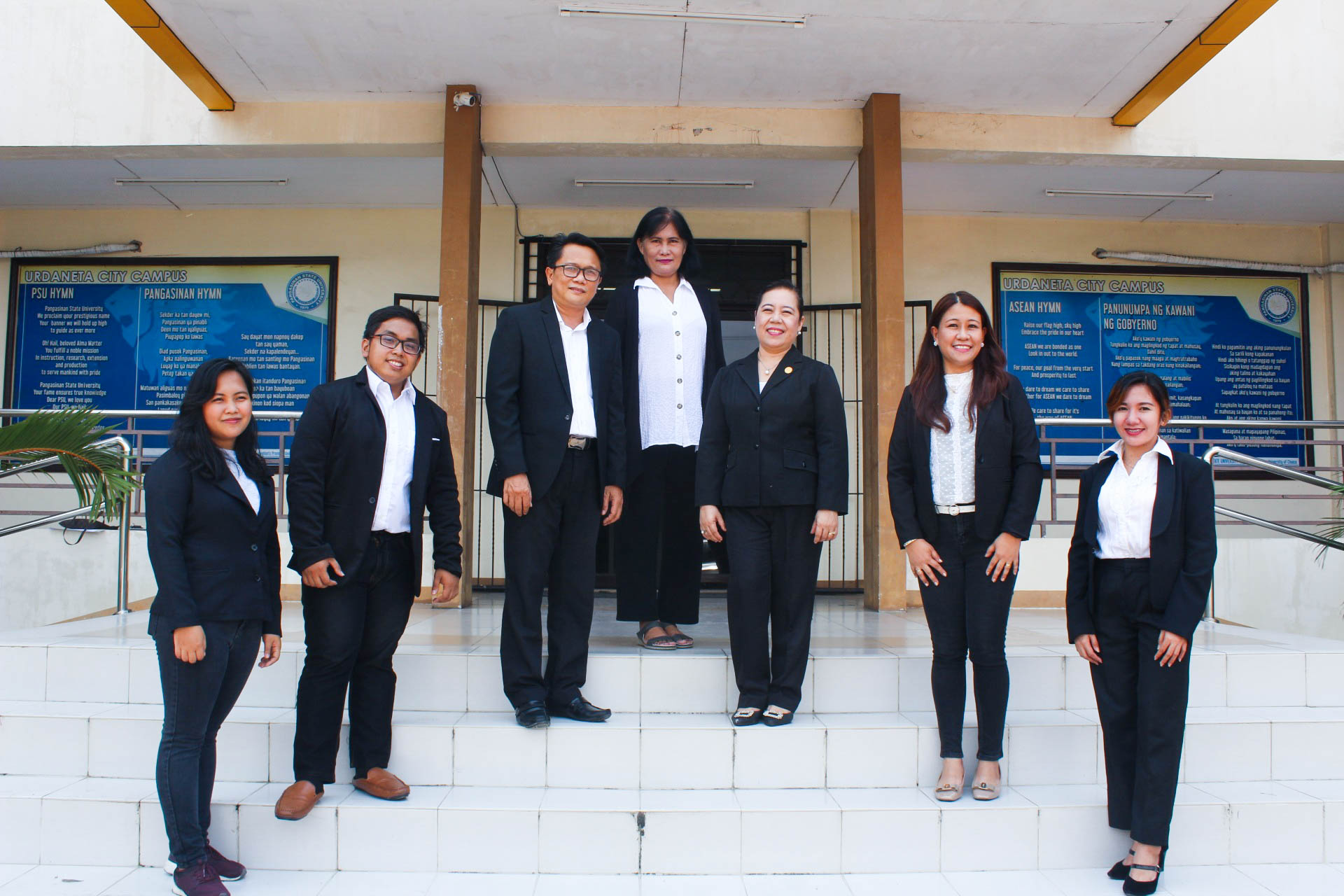 The Bachelor of Arts in English Language (ABEL) in Pangasinan State University – Urdaneta City Campus is a curricular program that aims to equip its graduates with irreplaceable skills in various professions while utilizing the adaptable command of the language. Guided by the four-fold function of instruction, research, extension, and production, the program is resolute in delivering quality education to its students, giving them future wide access in the professional world.

From its humble beginnings in June 2007, the program was able to have eleven (11) graduates as its first batch in 2011. The number of enrollees increased in the following years, which resulted to succeeding batches of graduates who spread in pertinent disciplines.

As the curriculum advances, there is a need for facility and equipment improvement. With the unwavering assistance of the administration, the department was able to pursue the creation of Speech Laboratory. This facility provides an in-depth speech training for the students in developing their phonological prowess.

The unique roster of faculty in the department is made up of competent individuals, both academically qualified and absolutely dedicated. Coming from distinguished institutions, their varied backgrounds complete the needed holistic transformation within students, besides gaining vast knowledge in the language. Their skills allow instillment of critical thinking and meta-linguistic analysis throughout the program.

Headed by the altruistic and competent department chair, Mr. Marvin Q. Corpuz, the English Language Department is composed of dedicated faculty members: Ms. Marissa Sison, the Head of Center for Foreign Language, Ms. Ruby Amado, the Faculty Regent, Ms. Angelita Barlongo, Mr. Emil Isaac Conde, Ms. Virma Cris Laguna, and Ms. Janilyn Grace Paleb.

With its adherence to standards for higher educational institutions, the program has garnered its Certificate of Compliance (COPC) in 2021. This ensures its provision of quality service to its clientele.
Accreditation Status: AACCUP LEVEL II Re-accredited
Foreign language tutor

Teacher

Private tutor

Researcher
Public relation officer

Advertising and documentation

Content writer and social media manager

Magazine and newspaper writer
Translating and editing

Digital copywriter and Editorial assistant

Web content manager
Government and diplomatic service
Graduate Attributes

Program Outcomes

Program Indicators

People's Champion

Articulate a comprehensive and contextualized view of the English language system and development (PO 19)

 

Display, socially and environmentally responsive organizational culture, which ensures higher productivity among the university constituents and elevate the welfare of the multi-sectoral communities (PO 5)

Facilitate English language learning in diverse social, cultural, academic, and professional settings (PO 21)

Preserve and promote "Filipino historical and cultural heritage" (PO 11)

Work effectively and independently in multi-disciplinary and multi-cultural teams (PO 9)

Explain how the English language works in the context of historical, social, cultural, and political factors.

 

Continuous Innovative Learner

Demonstrate through institutional mechanisms, system, policies, and processes which are reflective of transparency, equity, participatory decision making, and accountability (PO 1)

Act in recognition of professional, social, and ethical responsibility (PO 10)

Apply analytical and interpretive skills in the study of texts (PO 14)

Use appropriate theories and methodologies critically and creatively (PO 17)

Explain clearly and logically how the English language changes in response to various factors.

Effectively communicate orally and in writing using both Mother Tongue and English and Filipino (PO 8)

Communicate in English (both oral and written) fluently, accurately and creatively in diverse social, cultural, academic and professional settings (PO 20)

Listen/speak/read/write/view situations, participate effectively in oral communication situations where language systems vary.

Knowledgeable and skilled communicator

Set challenging goals and tasks with determination and sense of urgency which provide continuous improvement and producing quality outputs leading to inclusive growth. (PO 3)

Engage in relevant, comprehensive, and sustainable development initiatives through multiple perspectives in decisions and actions that build personal and professional credibility and integrity (PO 2)

Articulate and discuss the latest development in the specific field of practice (PO 7)

Facilitate English language learning in diverse social, cultural, academic, and professional settings (PO 21)

Teach reading/writing/listening/speaking/viewing skills in formal as well as non-formal settings using best practices in delivering knowledge (e.g. skill-based/content-based/tasked-based) with appropriate methodologies (audio lingual, independent exploration, use of technology, etc.)

Participate effectively in oral communication situations where language systems (phonological, morphological, syntactic, semantic) vary (PO 22)

Apply and assess the appropriate communication strategies in diverse social, cultural, academic, and professional settings.

Community Developer

Produce well-written texts for various academic and professional purposes (PO 23)

Produce a well-documented paper setting for various needs in an academic setting and in the workplace.

Exhibit life-long learning and global competence proficiency in communication skills, inter/interpersonal skills, entrepreneurial skills, innovative mindset, research and production initiatives and capability in meeting industry requirements of local, ASEAN and international human capital market through relevant and comprehensive programs (PO 4)

Contribute to the generation of new knowledge by participating in various research and development projects (PO 24)

Demonstrate research skills specific to the sub-disciplines in the humanities (PO 16)

Engage in English language research relevant to the school and workplace settings.

Civic Literacy and Citizenship

Discuss and/or create artistic forms (PO 15)

Use appropriate theories and methodologies critically and creatively (PO 17)

Identify multi-perspectives and interrelations among texts and contexts (PO 13)

Enhance literacy development and critical/creative thinking among students through the use of different types of texts

Practice spiritual values and morally upright behavior which promote and inspire greater harmony to project a credible public image. (PO 6)

Appraise the role of humanistic education in the formation of the human being and society (PO 18)

Recognize the need for and demonstrate the ability for lifelong learning (PO 12)

Maintains stature and behavior that upholds the dignity of teaching.