BACHELOR OF SCIENCE IN INFORMATION TECHNOLOGY
AND
BACHELOR OF SCIENCE IN MATHEMATICS AND NATURAL SCIENCES
Accreditation
PSU-UC holds Online Accreditation Survey Visit for IT and Mathematics Enhanced Level III. The Online Accreditation Survey Visit was conducted for the programs of College of Computing, BS in Information Technology (BSIT) and BS in Mathematics (BSMath) Enhanced Level III AACCUP Accreditation. As a requirement for the said accreditation level, the BSIT and BSMath programs prepared and submitted 2 copies of the Narrative Profile and the Compliance Report.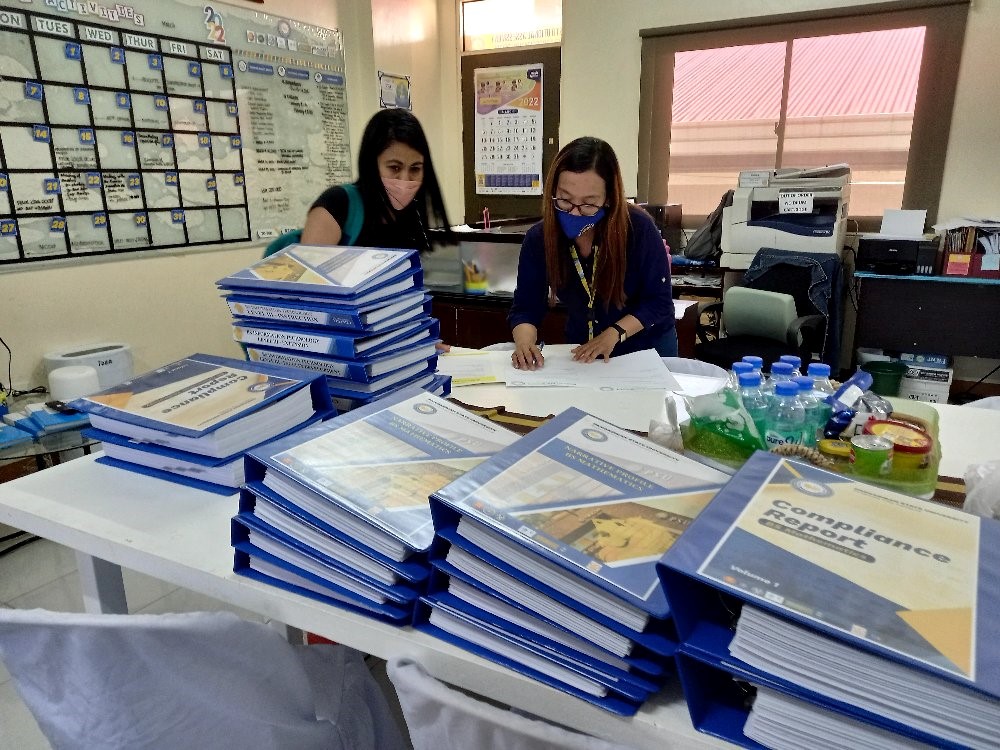 The Online Accreditation Survey Visit was conducted at Pangasinan State University – Urdaneta City Campus Commenced on March 28, 2022 at 9:00 am via Zoom Platform. The Campus is headed by its Executive Director, Dr. Honorio L. Cascolan. An audio- visual presentation of the university's Corporate Video was also presented. Dr. Billy T. Festijo, the Director for Institutional Assessment and Accreditation, led the recitation of the PSU Quality Policy, followed by the presentation of the university and campus officials. Then, the welcome remarks were given by the University President, Dr. Dexter R. Buted. This was followed by the Introduction of the AACUP Accreditation Survey Team per Program, given by Dr. Marcelo C. Gutierrez, Jr, the Vice President for Quality Assurance. For BS Information Technology, the accreditors were Prof. Nancy M. Santiago (Team Leader) and Dr. Jaime P. Pulumbarit(member and Accreditation Coordinator) both from Bulacan State Univsity, while Dr. Analyn M. Gamit (Team Leader) from NEUST and Dr. Corazon M. Cudia from NVSU worked as accreditors for BS in Mathematics. Prof. Jocelyn Salviejo of Ifugao State University was the accreditor in the area of Library for both programs. After the opening program, participants were sent to their respective breakout rooms for interview and review of accreditation documents.
PICTURES TAKEN DURING THE OPENNING PROGRAM
The Online Accreditation Survey Visit Enhanced Level III for the programs BS in Information Technology and BS in Mathematics continues its 2nd day on Pangasinan State University -Urdaneta City Campus on March 29, 2002 via Zoom Teleconferencing Platform.
Four (4) different areas were assessed on each program, namely: (1) Curriculum, (2) Extension, (3) Faculty Development and (4) Library. Faculty members from the College of Computing headed by Dr. Frederick Patacsil have successfully finished the interviews with flying colors.
Accreditors of each area have thoroughly scrutinized, checked and evaluated the provided documents of the departments.
This engagement has showcased the abilities of IT and Math faculty in their assigned areas.
PICTURES TAKEN DURING THE OPENNING PROGRAM
The event successfully ended on March 30, 2022. All members of the College of Computing, with the unending support of the Campus Librarian, Ma'am Angeles Gacad, and our dear Campus Executive Director, Dr. Honorio L. Cascolan, witnessed the closing program at the Accreditation Room. The Coordinator of the AACUP Accreditors, Dr. Jaime Palumbarit, delivered their positive impressions and feedbacks in every area. Certificate of Recognitions were also awarded to the Accreditors for their exemplary effort in checking the documents of both programs. Dr. Marcelo Gutierez, Vice President for Quality Assurance also give his warm message and thanks to the accreditors.